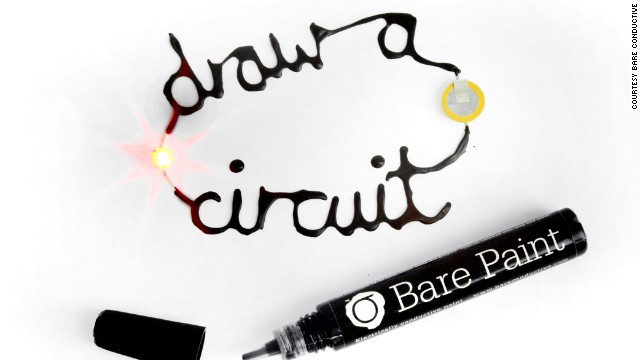 The first time i saw this was on CNN, an Electric paint that contains a non-toxic electrically conductive material. It comes in a pen called "Bare conductive paint pen".The amazing thing is that you can paint a light switch onto your wall without a socket, cables or wires. Its takes you to a new world of wireless electricity.
This new paint is designed to help people explore electronics, and learn about circuit making. It is now being used in projects around the world including interactive posters and home-made toys
A team of students from Royal College of Art (RCA) in London (Isabel Lizardi, Matt Johnson, Bibi Nelson and Becky Pilditch) has made that possible by creating electrically conductive paint.
"In 2008 -- and probably still today -- there was a lot of work around electronic textiles," says Johnson. "And though we really liked the idea of having a jumper (a piece of clothing) that has some intelligence in it, we didn't like that it was so bulky and that once you took it off the functionality disappeared."
Around the same time there was a lot of "extreme work" being done by people who were injecting electronics beneath the skin. For their final project, the RCA students began work on making something less intrusive, looking for a substance that could be painted onto the body. Eventually, says Johnson, "that idea transformed into the material we have now, which is very safe though it's not specifically intended for the body anymore."
Today, Bare Paint jars and pens are sold on the Internet and stocked by Radio Shack electronics stores across the United States. Projects being done by Bare Paint users include everything from interactive color wheels to homemade electric toys.
"Making a new material was a bit daunting for four designers," says Johnson. The team's solution was not to return to school to study chemistry for four years. Instead, they simply went on Wikipedia. According to Johnson, the online encyclopedia provided them with almost everything they needed to know about crafting conductive materials.
Johnson says that conductive paint opens up an enormous range of creative opportunities. As conductive paint becomes increasingly common, we can look forward to a future where billboards talk back, walls are interactive, and greeting cards come to life in our very hands.
"Devices no longer have to look high tech to be high tech," Johnson says. "Our goal is to put interactivity onto objects you don't expect."