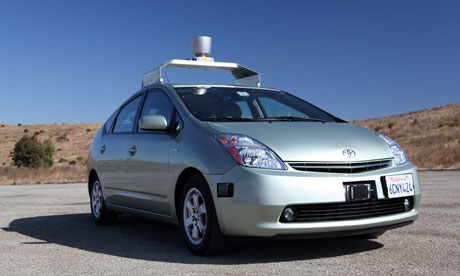 Google is still working on self-driving car project, aiming to make driving safer, more enjoyable and more efficient.
The project team has equipped a test fleet of at least ten vehicles, consisting of six Toyota Prius, an Audi TT, and three Lexus RX450h,each accompanied in the driver's seat by one of a dozen drivers with unblemished driving records and in the passenger seat by one of Google's engineers. The car has traversed San Francisco's Lombard Street, famed for its steep hairpin turns and through city traffic.
The vehicles have driven over the Golden Gate Bridge and on the Pacific Coast Highway, and have circled Lake Tahoe.The system drives at the speed limit it has stored on its maps and maintains its distance from other vehicles using its system of sensors. The system provides an override that allows a human driver to take control of the car by stepping on the brake or turning the wheel, similar to cruise control systems already found in many cars today.